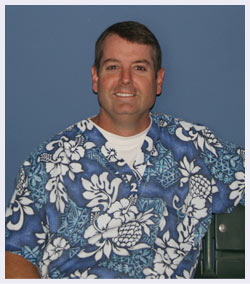 Michael J. MacKay, DMD
Dr. Mike MacKay grew up in Los Angeles and New Orleans and enjoys the easy going living in Melbourne, FL. After studying Philosophy at Boston College, Dr. MacKay attended Tufts Dental School in Boston at the New England Medical Center. Following many years of studying in the cold weather he completed his residency in Pediatric Dentistry at University of Tennessee in Memphis based out of the UT Lebonheur's Hospital and St. Jude's Cancer Center. Dr. MacKay moved to Melbourne and has been in private practice since 2000.
When he is not at the office, Dr. MacKay spends time with his wonderful wife Jan and their three daughters. He enjoys working on old cars and Red Sox baseball. Dr. MacKay truly strives to make each dental visit a non-threatening pleasant experience- for both the child and the parents. He prides himself on demystifying dentistry and explaining things in a language that puts everyone at ease.